Mega Poster
Moderator
WMSTR Lifetime Member
HEAR YE, HEAR YE!!!
The Western Minnesota Steam Threshers Reunion of Rollag, Minnesota, is proud to announce Rollagology III!
"Rollagology" by Ole's unabashed dictionary is defined as "the study of all things Rollag".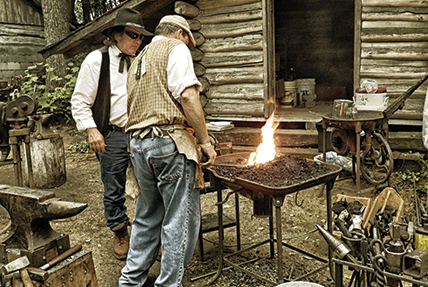 Announcing the registration for classes to be held at Steamer Hill in Rollag Minnesota on July 9th and 10th, 2022, aka. Rollagology III.
In the interest of educating people in the activities that occur at Rollag during the Labor Day Weekend Show, a total of 6 classes will be offered on the show grounds on the weekend of
July 9th and 10th, 2022
. Register online here:
https://rollag.com/events/2022-rollagology-education
Individuals are able to sign up for two of the three-morning classes offered on Saturday and Sunday. They can also sign up for any two of the three classes offered Saturday afternoon. Sunday afternoon will be a chance to go to any of the class instructors for further information, questions you forgot to ask, contacts……etc, or travel home early if needed. Class registrations will be limited to 15 people per session, with the Machine Shop limited to 8 people. No one can attend the same class twice that weekend. Children under 14 must be accompanied by an adult and
may
be restricted in some activities (tractor driving, some machine shop equipment, and running a drill press or grinder are examples.)
Registration for the weekend is $40 and covers camping, lunch on Saturday and Sunday as well as Saturday evening meal.
Rollagology III
Saturday and Sunday morning 4-hour classes:
Prairie Tractors, Giants pre-1920 (8:00 a.m. to Noon, Saturday and Sunday)
Machine Shop Operations (8:00 a.m. to Noon, Saturday and Sunday)
Draft Horses and Horsepower Area Activities (8:00 a.m. to Noon, Saturday and Sunday)
This is a list of the Saturday afternoon 2-hour classes:
Safe Hand Cranking Internal Combustion Engines (1:00 p.m, and 3:30 p.m. Saturday)
Ice Cream Making and Scooping (1:00 p.m., and 3:30 p.m. Saturday)
Drill Bit Sharpening (1:00 p.m, and 3:30 p.m. Saturday)
Here's a short description of the classes being offered and the general topics they'll teach on:
Prairie Tractors
This 4-hour class is designed to be an introduction to the complicated workings of the giant tractors manufactured before 1920. These machines replaced steam and lead to small tractors designed for ownership by individual farmers. WMSTR members display many of these rare and expensive machines at each show. Owners and operators are always looking for good help from individuals interested in these steel wheeled wonders, and are excited to teach the idiosyncrasies of many makes and models. We've all stood in awe of these giants as they rumble and pop through the parade, it's time we understand just what in the world is going on with them and how do we get a chance to help this elite crew put on the magnificent show they do? Instructors: Pete Mandt and Prairie Tractor Crew.
Machine Shop Operations
This 4 + hour class is an introduction to machinist work. Understanding that an apprentice machinist receives a 2-year technical degree, this is not designed to make you a machinist. We'll start in a classroom setting with some basic concepts of safety, work holding, measuring, tool geometry, and sharpening. We'll then move to the shop where you'll perform a couple of metal cutting operations on lathes, shapers, and mills under the guidance of experienced machinists. You'll leave the class with a chisel you made from raw stock. The goal of this class is to see if the WMSTR machine shop is somewhere you'd like to pursue as a place to demonstrate during the show. It may spark something you'd like to do as a hobby in your home, but the class will center around the line-shaft driven equipment found in the WMSTR machine shop. After your chisel is complete, a blacksmith will help you properly harden it to be a useful tool in your arsenal. Instructors: Ray Wangler, Kerwin Lund. Justin Malland, Phil Ptacek.
Draft Horses and Horse Area Activities
This 4-hour class can have a variety of attendees. Those of us that have absolutely no idea how the tac on a horse works, you will get to know the names of the pieces as well as the proper way to put it on……….the horse! You'll learn how to safely maneuver around a horse and do's and don'ts that go with that. Then you'll get to run the reins on a hitched-up team and feel the power these animals have. For the more seasoned as well as the beginner, you'll be introduced to the jobs that occur in the horse area both during the show and outside show time. You'll meet the people that make it happen and learn where you might fit in with your specific interests. Instructors: David Biewer, Brett Lein, and other horse area members.
Hand Cranking Internal Combustion Engines
This 1-2 hour course is designed to give the student a clear understanding of the dangers of hand cranking and internal combustion engine. It's also going to help troubleshoot an engine that won't start and the "big 3" every troubleshooter needs to proceed. You'll learn the steps to take to better your chances of getting an engine started and doing it without getting hurt. We'll go over the theory of 2 and 4 cycle engines that make the engine run, compression, spark, ignition timing, fuel delivery, flooding, and how to retard timing for safety. Instructors: Prairie Tractor Crew
Ice cream Making and Scooping
This 1-2 hour course is mostly for you to enjoy the fruits of labor! Actually, you'll learn the chemistry and physics of making ice cream. No joke, the process of cooling water far below its freezing point, butterfat separation, sugar/water emulsion processing as well as the fast and easy ingredients different from the slow and complicated ones. Finally, while your creation is brewing, we're going to introduce you to the ice cream underground of WMSTR. There's a huge effort goes into the many ice cream stands operated on the grounds which has produced tremendous income for the show, but left a big void in the number of people needed to make the effort successful. Instructors: Darrel Dey and WMSTR Board Member.
Drill Bit Sharpening
We heard a lot of people wanted to make the 2020 drill bit sharpening class, but missed it so we decided to offer it again. How does drill bit sharpening fit Rollagology? We think every Rollag project has a hole in it (metaphorically as well as literally!). This 2-hour class will teach you the geometry of the typical twist drill and how to make one-cut steel, stainless steel, cast iron, brass, or aluminum. You'll learn freehand sharpening with and without a gauge (no drill doctors or other machines taught here) so you can "eyeball" a drill bit and make it cut with the most rudimentary tools. You'll learn secrets to sharpen very small twist drills as well as the common sizes used in most shops. Speed and feed are critical parameters and will be sufficiently covered as well. Instructors are Ray Wangler, Phil Ptacek, Justin Malland, Darryl Malland
Education Weekend Itinerary
Friday 7/8/2022
1900 – 2000 hrs (7.00 – 8:00 p.m.) Kickoff/meet and greet meeting at the Mercantile
Saturday 7/9/2022
0630 hrs Coffee and social at the Mercantile
0730 Load people movers and proceed to class locations
1130 Load at classes for provided bag lunch at the Mercantile
1230 Load people movers for afternoon classes
1630 Load at classes return to Mercantile for a catered meal
Sunday 7/10/2022
0630 hrs Coffee and social at the Mercantile
0730 Load people movers and proceed to class locations
1130 Load at classes for bag lunch and closing comments at the Mercantile
1230-1630 Free time for students to roam class areas, visit, or travel home.